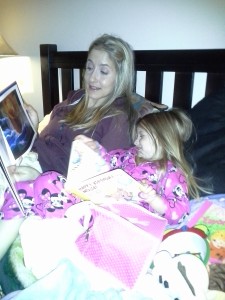 A budding reader is bursting with energy, matching sounds and letters. You're reading picture books, predictable pattern books, etc. But what happens after that? How do you know what your child's reading level is? In order to correctly select books, knowing the level is helpful!
Independent reading level: With fluent reading, word recognition errors (miscues) don't exceed more than one per 100 words of text, with 90% or better comprehension.
Instructional level: Assistance is needed. Word recognition errors don't exceed more than five per 100 words of text. Comprehension would be 75%.
Frustration level: Student understands less than 70% of the reading.
I always suggest the 5 finger technique. Have your kiddo put down one finger on the page each time there is an unknown word. At five, pick an easier book. Regardless which print or media format, knowing the appropriate level is important. Students don't learn at the frustration level; you may notice physical and emotional symptoms.
Students should zip along with reading at their independent level, out loud, or silently. They are reading fluently. Students read what they are interested in reading!
Reading with your child encourages a desire to read. 
If you want to use a particular book that doesn't list its reading level, you can make an educated guess.
Check put the length of sentences and complexity of vocabulary.
Generally, an easy selection contains short sentences and simple words, a more challenging title has longer sentences and abstract words.
Illustrations contribute greatly. Look for colorful art.
Type size counts. It's measured in points. Select easy on the eyes type styles.
Leading is the space between lines. Larger spaces are easier to read.
Lines that are too long cause more fixations and slow reading.
You can use readability formulas, of course. These are common sense, time-tested ways to estimate reading levels. Sometimes a book is too hard for your child, but if there is a burning desire to read that title,  just do it. Provide lots of support.
While you've stopped by, check out archived blogs waiting for you! See you also on FB and Twitter @RitaWirtz.
I'd love to hear from you. See you tomorrow!