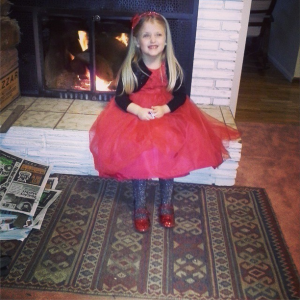 Santa wants you to know what a phoneme is. I just got back from Morgan's preschool recital. It was great fun watching these toddlers singing, ringing bells and tap dancing. Morgan showed her "moves" and this year managed to stay on stage looking pretty much with the action. How cool that they learned the words to the movie Frozen and holiday songs. Too cute for words. Left footprints on this nana's heart.
Morgan is the reason I made the move to Eugene. Of my five grandchildren, she lives only twenty minutes away, not ten hours anymore. So we spend a lot of time together, reading, doing crafts, singing, dancing and moving. We do look at YouTube, matching our books with online stories like Stellaluna, Caps for Sale and singing along to Alice the Camel and Herman the Worm. We've looked at Tiny Hamsters and Komodo Dragons, and other topics that interest her vivid imagination. Her mom takes her to the library and Daddy reads bedtime stories to her, too, so she already has a great start in reading. Her mom also put labels all over the house, such as COUCH, etc.
I love doing all of these things with her, but by far, the time we spend with old fashioned lap reading is my favorite time because I am teaching Morgan how to read. The other day we played with the book Yo, Yes, (Raschla) I mentioned in my last blog. I started teaching Morgan not only sounds and letters, but punctuation! Emergent readers are capable of far more than we give them credit for. They live in a world of immersion, in print and language rich environments. Language learning is a natural process, but we can help it along by starting mini lessons with our readers in training,
Here's what we're reading this holiday season: Snowy Winter Day (Feldman, a Rhyme Time Reader, Scholastic, '02);  The Snow Child (Littledale, Scholastic, '78); The Snowy Day (Caldecott Winner, Keats, '62); Rudolph the Red Nosed Reindeer (May, '58); Dick and Jane, A Christmas Story ('04) and Ski Pup (Freeman, Weekly Reader, '63). CLASSICS.
When we read, we do more than just read. Our informal word study begins with concepts about print: knowing book conventions, letters have meaning, directionality (reading left to right), tracking the line of print with our fingers, spaces have a function, and basic punctuation. There are always some accompanying activities before, during and after reading stories. Silly voices, whispering, choral reading together, sing song, chanting, using rhythm instruments, glue sticks, practicing with our new right/left handed scissors, puppets, drawing, tracing letters with our fingers or q tips, painting, making play dough and clay characters etc. I also start each story with a prediction, or guess, then ask Morgan to summarize what we read, so besides basic word play, we have already begun the study of comprehension at the same time.
I also sneak in sequencing, but I'll tell you how in a later blog. We make a lot of messes. Morgan watches and mimics me. She sees my eyes move along a line of print, learning to track print. She memorizes the stories, like your child, and in a dramatic way likes to retell the stories.  Sometimes I use my plumber's elbow (you can get one at a hardware store) and it really magnifies the sounds and words when placed by your child's ear. Reading at this stage is play at its finest. Often I put a tissue in front of my mouth, then hers, and say certain sounds so she can feel the air flow move. Later you can teach voiced and unvoiced sounds, as think, or this. I make everything a game because learning to read is the best holiday party in town.
Research tells us to use rhyme, rhythm and predictable patterns with budding readers. As we read, our kids are introduced to the sounds of the language which provides a foundation for becoming a confident, capable reader. BUT it all starts with the phoneme. Graphemes are the written "units" which stand for phonemes. At a minimum, phonemic awareness mini lessons or exposure includes isolating, identifying, categorizing, blending, segmenting, adding and deleting. Let me tell you more to make sense of this.
What's a phoneme, anyway? Phonemes are smaller than syllable sounds that roughly correspond to individual letters. All children need opportunity to manipulate the basic speech units which make up letters and ultimately words. Basic phonemic awareness activities  may include recognizing rhymes, matching letters, hearing the beats or syllables, blending sounds, separating sounds and recognizing patterns. For example, say to your child:
"What sound does your name start with?
"What's another word that begins with this sound?"
"What's the first sound in this word?"
"Clap your hands when you hear the first sound."
"Wiggle your hips, put your hand on your head, etc. when you hear the last sound."
I truly believe it is true that phonemic awareness is the predictor of reading achievement, so it's important to do plenty of sound and word play.
One of my favorite resources for parents, Put Reading First, suggests beginning with phoneme isolation, which means recognizing the individual sounds in a word (eg. cat has three letters, three sounds. Next, teach phoneme identity ("the sound is" and then recognizing the same sounds in different words, as 'b' is the same in the word big, as the word boy. Then, blend phonemes into words, as d/i/g is dig. When your child is ready, segment, or separate words into separate sounds. "How many sounds are there in the word mom? (three). You can continue with additions, deletions and substitutions. Word play is just fun!
Also, please check out this article about the importance of play. If you follow me on Twitter, you may already have seen it there.
Thanks, Santa; what a great holiday present for our stockings!
Follow me on Twitter and like me on Facebook!