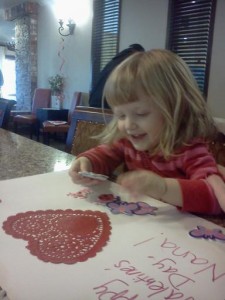 We need to keep reading to our kids. We need to keep writing with our kids. Parents read to their toddlers, but how many of us continue reading to our elementary and middle school children?  Moms and dads probably read the most right before bedtime, the cherished ritual of the bedtime story.
Perhaps schools should revamp homework policies that give little free time for individual or family reading and make it a school-wide priority. I always recommend each member of the family set a reading goal. Family reading time can be a set time or spare moments that pop up. As we read, we then write to give voice to what we read. By publishing our thoughts, sharing becomes a cherished part of the reading process. Responding to literature makes a difference in our understanding and feeling about what we read.
The joy of literature is the heart of a balanced reading program. We teach literature to motivate students, connect with life experiences and model appropriately written language structures. We can model a variety of response modes and structure experiences including re-tellings and re-readings, talking and writing about books and keeping response journals.
When our children were growing up,  (they now have their own families), we finally got a used Nintendo and hand held games were banned in our house. We all read, alone and together. I was raised in a houseful of readers. My mother read into the late hours every night. We spent many hours at the library. We also wrote lists, thank you notes, reports, letters and whatever else my parents thought was important.
Things have changed. Electronic media certainly has its place at home and school. But there is nothing that can compare to holding a book in our hands, looking at the pictures, feeling the paper and turning the pages. We can read the whole thing and not just excerpts or anthologies. But we need to make pleasure reading a priority. 
There are many Book Clubs for adults, yet children are pretty much on their own at home. How many have access to a Book Guide, or get to discuss or write about what they are reading, with their friends or families? And I don't mean as school assignments.
Scholastic recently released an interesting report you should definitely take a peek at.  Here are the highlights, as I interpret the information, along with my comments.
Kids are less likely to read for fun. Only 31% of children, aged 6-17, (down from 37% in 2010)  said they read for fun five days a week.
Fewer boys and older children are inclined to pleasure read. 
It makes sense to have students select their books they are interested in reading.
A mix of classic literature and current high interest material works well together.
Reading out loud to children beyond toddler years is recommended.
Reading aloud and silently during special family reading time would be a great idea.
Writing at home should not be just classroom related. Monthly family reading themes with classics, timely topics such as the Olympics or Alaskan Iditerod provide a jumping off place for children of varying ages to read and write about.
As children get older, reading for pleasure appears to take a nosedive. Scholastic reported only 26% of kids aged 12 to 14 and only 14% of 15 to 17 year olds read for pleasure five days a week. As we talk about the changes regarding ESEA, Title I and the challenges of Common Core, reading for sheer enjoyment appears to be lost or at least seriously losing ground. And what is the purpose of high standards if we are not truly a nation of readers and writers?
Follow me on Twitter and like me on Facebook!